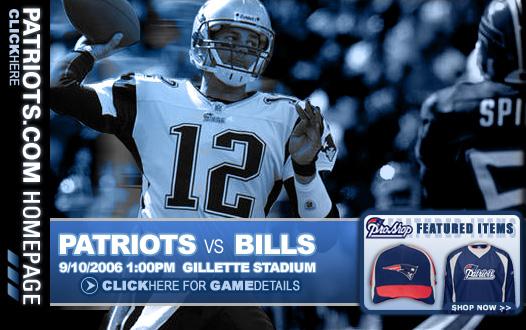 People Just don't get it do they? I mean 3 of the last 5 superbowls
and now they are worse than the dolphins????

Here is a quote from C.J. from Up For Anything:

"AFC East

The mighty are falling. The Patriots are not the team they were. The Deion Branch saga is just one example of how bad things have gotten. It's time for a new champ in this division and the Nick Saban project is complete. Expect the Dolphins with a rejuvenated Dante Culpepper to take the crown. (NICE PREDICTION)

The Patriots could still make enough noise to make the playoffs. That's especially considering both the Jets and the Bills are still trying to find out if they really have a starting QB."


Well there it is in a nutshell. Seems to be a pretty common theme.
THE PATRIOTS WILL BE 12-4 AND WIN THE AFC EAST.
THE SUPERBOWL
WILL BE THE PATRIOTS AND THE CHICAGO BEARS.

thats my prediction



15 min to game time.
peace
billyB