Patriots V Chargers today at 3 p.m est. Patriots Should win this Game but it should be close for the first half. The Key factors are all the injury's the Chargers are dealing with which I expect will be too much to overcome in the long run, Rivers, Tomlinson, Gates and the list goes on.
I think that the Patriots Defense will be able to slow down the Chargers Offense enough to make Rivers or Volek make a mistake or 2. Look for the Patriots to Pull away and win 37-17.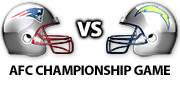 Jan. 21, 2007 -- Colts 38, Patriots 34 (at RCA Dome) (STOLEN)

Jan. 23, 2005 -- Patriots 41, Steelers 27 (at Heinz Field)

Jan. 18, 2004 -- Patriots 24, Colts 14 (at Gillette Stadium)

Jan. 27, 2002 -- Patriots 24, Steelers 17 (at Heinz Field)
Tom Brady is 3-1 in AFC Championship games. lets hope he make it 4-1 today.
The Giants V Packers is a game where the Packers Look like they should be able to deal with the Giants But The Giants are one of the Hottest teams right now. They gave the Patriots all they could handle in the last game of the regular season then went into Dallas last week and Upset the
#1 seeded Cowboys (who had been playing like shit the last 3 weeks). Look for the Giants to upset the Packers to go 10-0 on the road for the season.
Ok what is up folks. Only 10 people have signed up for
Miami Don's
Big Game. Tonight at 9:30 on
Full Tilt Poker
.
I won My Token so I am in the Blogger Tourney with the Biggest Payout. Not like I have a shot to win Right
Don
? I figure to get heads up with don and then tilt him when I
drop the hammer
.
Hope everyone enjoys the Games.
here is a song for you to hum.